On behalf of the Nanotechnology Association of Thailand and Chulalongkorn University, it is with great pleasure and privilege to extend a warm invitation to you for participating in the 6th Thailand International Nanotechnology Conference (NanoThailand 2018), which will be held between December 12th-14th, 2018, at Thailand Science Park Convention Center, Pathum Thani, Thailand. The theme of the conference is "From frontier research to innovation and Commercialization". The objectives are to apply nanotechnology in various fields for a better life, to create a platform for knowledge exchange to further advance technological areas, and to exhibit the latest innovations of the industries.
In order to realize the objective of the conference, outstanding keynote speakers, guest speakers and researchers are invited to present significant progress which has been made in the areas of their expertise. The conference will provide a platform for experienced researchers in nanotechnology and practitioners from both academics, as well as industry to meet and share cutting-edge development in the field.
On behalf of the organizing committee, we would like to express our strong belief the participating in the NanoThailand 2018 will be a memorable experience, and we look forward to welcoming you to Thailand.
 

Prof. Dr. Jumras Limtrakul




Chairman of the conference

Prof. Dr. Mongkol Sukwattanasinitt




Head of the Organizing Committee
On behalf of NANOTEC, we are delighted to welcome our international and national presenters and delegates to NanoThailand 2018, the 6th International Nanotechnology Conference to be held at Thailand Science Park during 12-14 December. The conference theme is "From Frontier Research to Innovation and Commercialization" which reflects the rapid advances being made in the field of nanotechnology, all for the goal of matching research with market needs. The event will bring together leading researchers, scientists, and innovators to exchange experiences and create an environment that will promote new ideas and collaborations.
NANOTEC is celebrating its 15th Anniversary on 13 August and participation at NanoThailand 2018 is one of the events of celebration activities. NANOTEC is providing awards to honour young and upcoming researchers who have demonstrated dedication to their career in nanotechnology research and help them gain broad recognition domestically and internationally.
I would like to take this opportunity to express my sincere appreciation to the organizer of this special event and also thank all the speakers and participants who have taken time out of their busy schedule to join us. We value very much your participation.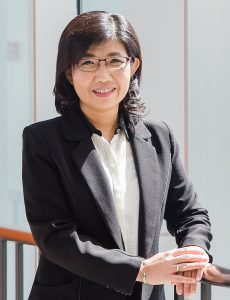 Dr. Wannee Chinsirikul
Executive Director
National Nanotechnology Center
(NANOTEC)